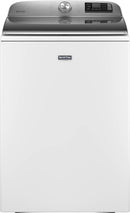 Description
Model: MVW7232HW
Extra Power button
Some stains dissolve best in hot water. Others in cold. With the push of a button, Maytag fights both in a single load. The Extra Power button boosts stain-fighting performance on any wash cycle with a dual-temperature wash.
Smart capable appliance
Stay in control, and manage laundry from anywhere with optional smart features. Use the Maytag™ app to remotely start or stop your appliance, get end-of-cycle notifications, and troubleshoot select issues.
Deep Fill option
For more water when you want it, select the Deep Fill option to fill the wash basket with your choice of deeper water levels. The extra water works with robust wash action to effectively break down and rinse away everyday tough mess.
Built-in water faucet
The built-in water faucet is engineered for the extra dirty. Use it to rinse away loose soils as clothes go in, or fill the tub for up to a three-hour soak before the cycle begins.
Delay the start of the wash cycle to take loads straight from soaking to washing without coming back to the washer.
Quick Wash cycle
The Quick Wash cycle cleans small, lightly soiled loads in 30 minutes with extra high spin speeds, pairing nicely with the Quick Dry cycle on matching Maytag® dryers to get your clothes ready in no time.
10-year limited parts warranty on the drive motor and stainless steel wash basket.
Slow-close glass lid
The slow-close glass lid offers a clear view of laundry and quiet, precision closing.
American pride
Proudly assembled in Clyde, Ohio, U.S.A.
Direct-drive motor
The direct-drive motor not only has the power to handle large loads, it's backed by 10-year limited parts warranty.
Advanced Vibration Control™
The powerful shock absorbers and springs of Advanced Vibration Control™ reduce vibration to help keep disruptive noise to a minimum, load after load.
Wrinkle Control cycle
The Wrinkle Control cycle is specially designed to help prevent wrinkles with warm water and low spin speeds.
Power™ impeller
The Power™ impeller attacks everyday tough stains in a single wash with a reverse wash motion, triple action spray that keeps clothes thoroughly saturated with water, and concentrated detergent throughout the cycle.
Auto Sensing
Adjusts the water level for each load to provide efficient cleaning.
Stainless steel wash basket
The stainless steel wash basket is designed for years of washes and built with sturdy materials to last for the long haul. It's also backed by 10-year limited parts warranty.
Cycle Memory
Customize each cycle the way you want with Cycle Memory, which stores your last setting choices and then applies those options the next time you use that cycle.
Clean washer with affresh® cycle
Run the affresh® cycle every 30 washes with an affresh® washing machine cleaner tablet or liquid chlorine bleach to thoroughly clean the inside of your washer.
Conditions
1.Open-Box New
Products in Open-Box New condition is brand new — with no physical flaws, scratches, or scuffs — and include all original parts and accessories. 


2.Open-Box Excellent
Products in Excellent condition look brand new — with no physical flaws, scratches, or scuffs — and include all original parts and accessories. The product will be in its original packaging or a suitable replacement box.
Products in Excellent condition can be found in Appliances Club stores and online. Products might not include the owner's manual or manufacturer registration card. Standard home delivery products such as TVs and major appliances may still qualify for Excellent or Excellent-Certified condition without packaging or a box.


3.Open-Box Fair
Products in Fair condition operate as intended but show more significant scratches, dents, or chips & for example, Original packaging is typically not included.


4.Customer Return Product
Customer return products have been opened and used (some for weeks or months), not include original packaging, artwork, or manuals.
Customer Return products are inspected and verified to function properly, cleaned top to bottom, and restored to original factory specifications (as applicable).