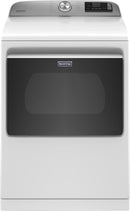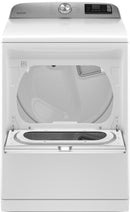 Description
Model: MED7230HW


Extra Power button
The Extra Power button boosts drying power on any cycle by extending time, heat, and tumbling. One push helps prevent underdrying by getting thick fabrics, pockets, and seams drier the first time.
Advanced Moisture Sensing
Uses multiple sensors to monitor inside moisture and air temperatures to help evenly dry loads.
Smart capable appliance
Stay in control, and manage laundry from anywhere with optional smart features. Use the Maytag™ app to remotely start or stop your appliance, get end-of-cycle notifications, and troubleshoot select issues.
Steam-enhanced dryer
These dryers use steam to help prevent wrinkles, so your clothes come out looking their best. Look for steam-enhanced cycles and options to help prevent wrinkles, refresh clothes, and reduce static.
Quick Dry cycle
Dry a small load fast with the Quick Dry cycle, which pairs nicely with the Quick Wash cycle on select Maytag® washers, to get clothes ready in no time.
Wrinkle Prevent option with steam
The Wrinkle Prevent option adds steam to post-cycle tumbling.
10-year limited parts warranty on drive motor and drum
Maytag confidently backs the dryers with a 10-year limited parts warranty on the drive motor and drum.
American pride
Proudly assembled in Marion, Ohio, U.S.A.
Reduce Static option
The Reduce Static option cuts down on cling with the addition of a fine mist of water as clothes tumble at the end of the cycle.
Steam Refresh cycle
The Steam Refresh cycle revives clothes without having to wash them by reducing wrinkles.
Hamper door
Sweep laundry onto the open hamper door to keep it off the floor. The latch-free door drops down, giving you a chute for loading and a sturdy platform for unloading, folding, and stacking.
Heavy-duty hinges
Heavy-duty door hinges are built tough for years of reliable opening and closing.
Wrinkle Control cycle
The Wrinkle Control cycle uses lower temperatures and defaults to using the Wrinkle Prevent option to help minimize wrinkles.
Conditions
1.Open-Box New
Products in Open-Box New condition is brand new — with no physical flaws, scratches, or scuffs — and include all original parts and accessories. 


2.Open-Box Excellent
Products in Excellent condition look brand new — with no physical flaws, scratches, or scuffs — and include all original parts and accessories. The product will be in its original packaging or a suitable replacement box.
Products in Excellent condition can be found in Appliances Club stores and online. Products might not include the owner's manual or manufacturer registration card. Standard home delivery products such as TVs and major appliances may still qualify for Excellent or Excellent-Certified condition without packaging or a box.


3.Open-Box Fair
Products in Fair condition operate as intended but show more significant scratches, dents, or chips & for example, Original packaging is typically not included.


4.Customer Return Product
Customer return products have been opened and used (some for weeks or months), not include original packaging, artwork, or manuals.
Customer Return products are inspected and verified to function properly, cleaned top to bottom, and restored to original factory specifications (as applicable).