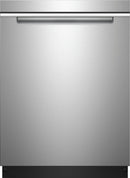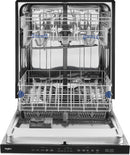 Description
Model: WDTA50SAH
Tap touch controls
Clean these controls as easily as you use them.
Cycle status indicator
The full lit display glows for wash, drain, drying, sanitized and clean along with the time in hours and minutes so there's no need to guess when your dishes will be ready.
Flexible loading options
Adjustable upper basket, folding tines, removable upper basket and AnyWare silverware basket.
8-hour delay-start
Lets you set the dishwasher to start running while you're working, sleeping or running errands.
In-Door Silverware basket
Frees up rack space by easily fitting on the front of the lower rack or in the door to make room for more dishes.
Adjustable upper rack
Manually raise or lower the upper rack two inches to better fit tall items.
Stainless steel tub
Promotes drying by retaining heat from wash and rinse cycles. Plus, it cools faster than the dishes so moisture can condense on the interior walls and not the dishes.
Accommodates up to 15 place settings
Generous interior space means more clean dishes, fewer loads.
TotalCoverage spray arm
Cleans with twice the jets for more coverage. A smarter sequence of spray patterns from multiple nozzles hits dishes throughout the cycle.
High temperature wash for better, safer clean
Gives items like baby bottles, glassware or dishes a more thorough clean.
Energy Star certified
Energy Star certified models exceed government standards to help save money on your utility bills.
Heated dry option
Use a clean, dry dish straight from the dishwasher thanks to added heat for drying. For optimal drying results, use this option with rinse aid.
Sensor Cycle
Automatically selects the right wash and dry settings for your load by using two separate sensors to measure temperature, soil level and load size once during the prewash and once during the wash cycle.
Normal Cycle
Use for normal amounts of food soil to clean up leftover messes from your day-to-day meals.
1-Hour Wash Cycle
Cleans dishes in half the time compared to Normal cycle with lightly soiled loads so your plates, pans and glasses are thoroughly cleaned up and taken care of in just an hour.
Heavy Cycle
Take care of heavily-soiled messes and other hard-to-clean dishes without the extra elbow grease by adding extra time to the cycle.
Conditions
1.Open-Box New
Products in Open-Box New condition is brand new — with no physical flaws, scratches, or scuffs — and include all original parts and accessories. 


2.Open-Box Excellent
Products in Excellent condition look brand new — with no physical flaws, scratches, or scuffs — and include all original parts and accessories. The product will be in its original packaging or a suitable replacement box.
Products in Excellent condition can be found in Appliances Club stores and online. Products might not include the owner's manual or manufacturer registration card. Standard home delivery products such as TVs and major appliances may still qualify for Excellent or Excellent-Certified condition without packaging or a box.


3.Open-Box Fair
Products in Fair condition operate as intended but show more significant scratches, dents, or chips & for example, Original packaging is typically not included.


4.Customer Return Product
Customer return products have been opened and used (some for weeks or months), not include original packaging, artwork, or manuals.
Customer Return products are inspected and verified to function properly, cleaned top to bottom, and restored to original factory specifications (as applicable).