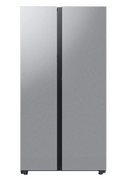 Description
RS28CB7600QLAA
Best in-class warranty coverageo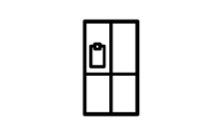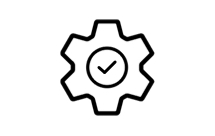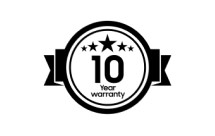 2-Year Bespoke Warranty
Enjoy two years of refrigerator warranty coverage for parts and labor on Bespoke refrigerator models.
5-Year Sealed System Warranty
Get five years of parts and labor warranty coverage for sealed systems.§
10-Year Compressor Warranty
Get 10 Years of parts and 5 years of labor warranty coverage on digital inverter compressor.
Refreshingly cool water is always within reach. Choose from an internal dispenser or a built-in pitcher that automatically refills, with the option to infuse with a flavor.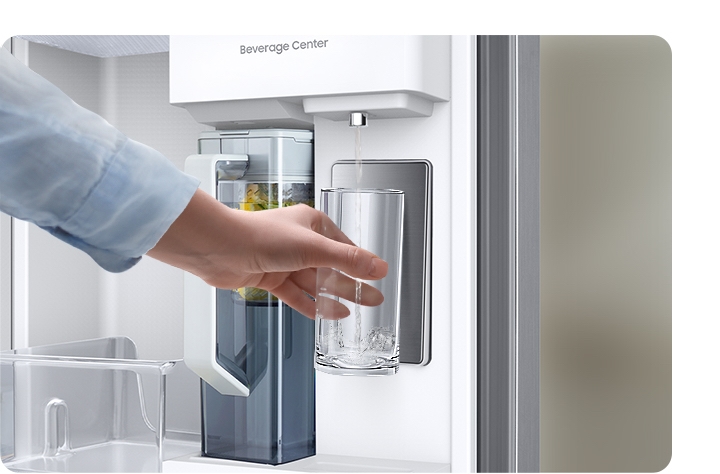 Beverage Center
Quick access to cool, filtered water.
Dual Ice Maker
Enjoy ice in cubes or Ice Bites™.
Auto Open Door
Open doors with a lighter touch.
Extra Large Capacity
More storage with SpaceMax™ technology.
Designed with you in mind
Create a stylish kitchen with your Samsung Bespoke refrigerator in your choice of color and finish: White Glass or Stainless Steel.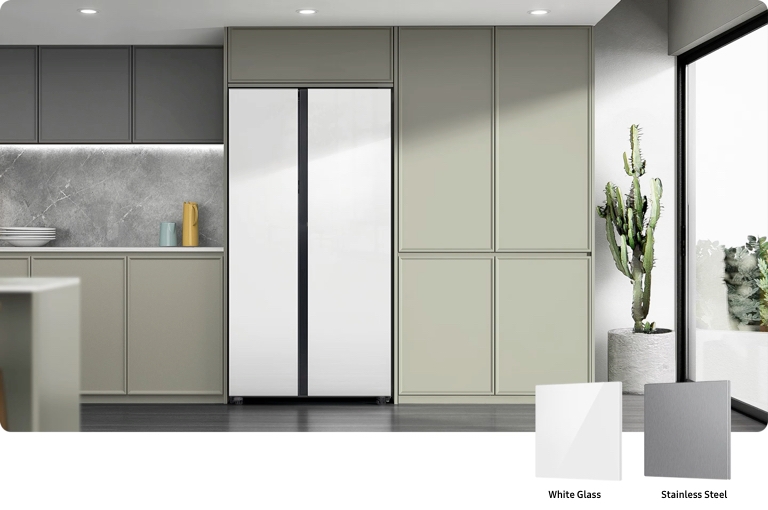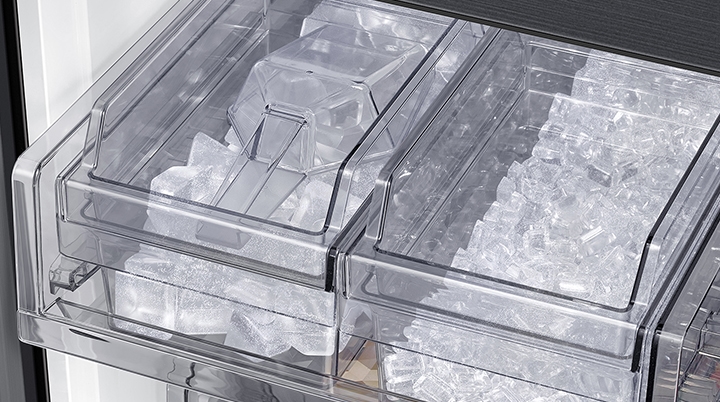 Ice your way
Get the right ice for your drink of choice. Choose from cubed ice or Ice Bites™ that chill your drink faster.¹
Simply place your hand over the Auto Open Door sensor of your side-by-side refrigerator and the door will softly open about an inch.²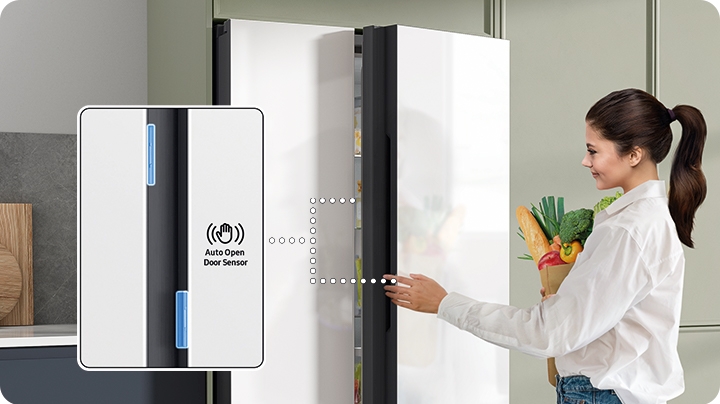 Even more features that give us
the cutting-edge
Explore time-saving smart innovation below to make your everyday routine easier.
Wi-Fi Enabled

Monitor and manage the refrigerator's performance anywhere using embedded Wi-Fi and the SmartThings App.* You can control the Rapid Cooling modes, change the temperature and check if the ice maker is on. It also alerts you if the door is open or the filter needs replacing and diagnoses issues.

Built to fit and designed to impress

With a 28 cu. ft. Interior and SpaceMax™ technology, you get extra storage space inside without compromising energy efficiency. Plus, the silver-accented adjustable slide-in shelving add a touch elegance to your fridge interior.

Power Cool & Power Freeze

Enjoy a rapid cooling performance. At the touch of button, Power Cool blows intensely cold air into the fridge to quickly cool your groceries or favorite drinks. Power Freeze delivers a fast blast of cold air into the freezer. It is great for freezing or firming up frozen food and making ice.

All-around Cooling

Make sure that all of your food is properly cooled. All-Around cooling cools each compartment evenly from corner to corner. It continually checks the temperature and circulates cool air through strategically placed vents. So food is kept at the optimum temperature and cools evenly from corner to corner.
Accessible Carousel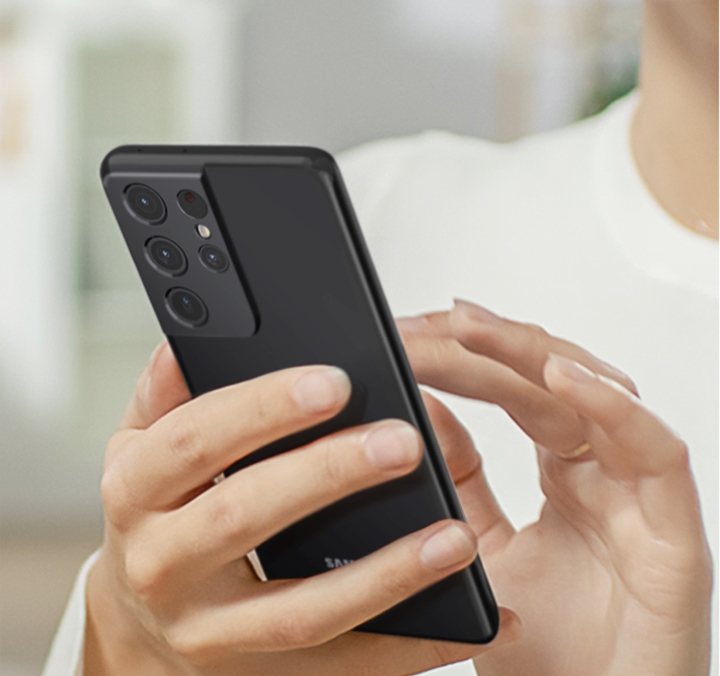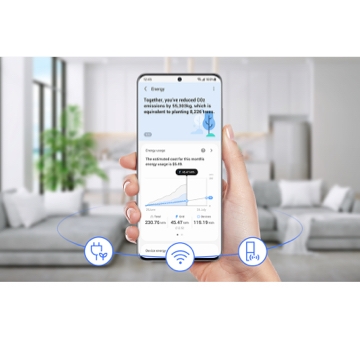 Energy management at your fingertips
SmartThings Energy* lets you easily check your daily, weekly and monthly power consumption and intelligently adjusts to stay within preset monthly targets.
Awards and Certifications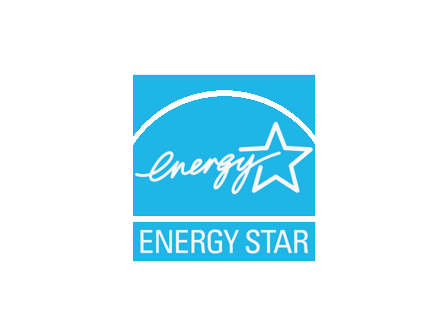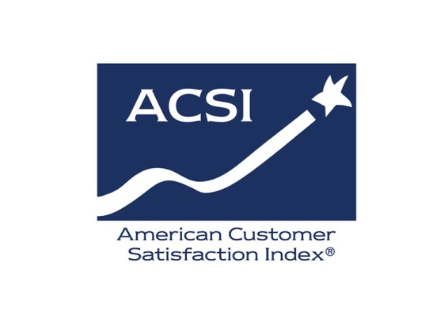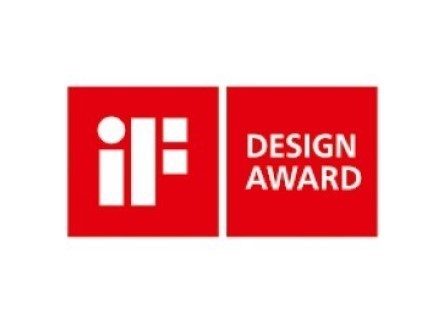 ENERGY STAR® Certified
ENERGY STAR® products, as defined by the U.S. EPA, are the same or better than standard products, but use less energy. Bespoke is the stylishly smart choice.π
American Customer
Satisfaction Index
Samsung Home Appliances was awarded the American Customer Satisfaction 2022 Award for #1 Reliability and #1 Customer Service in Home Appliance.‡
iF Design Award 2023
Samsung Refrigerators were recognized at the International Forum (iF) Design Awards 2023, a prestigious German international design competition.
Measure for a perfect fit
Measure your installation clearances and view specifications to ensure
it will fit your space.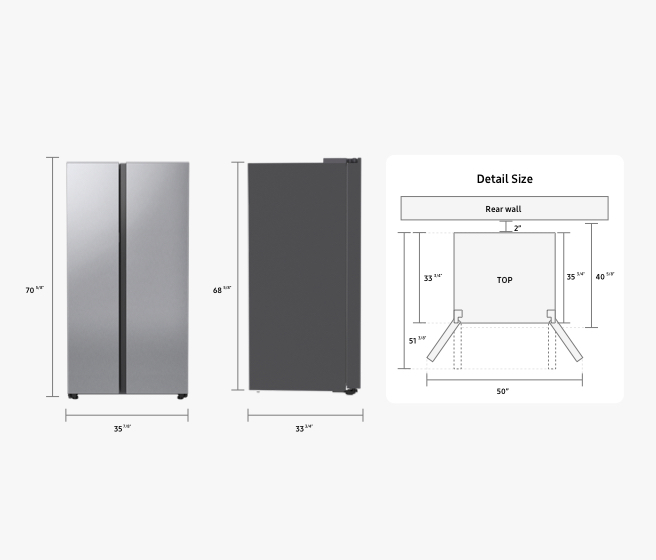 Full depth
Our full depth refrigerators extend out a few more inches than our counter depth models, but they provide more space for groceries and leftovers.
DOWNLOAD GUIDE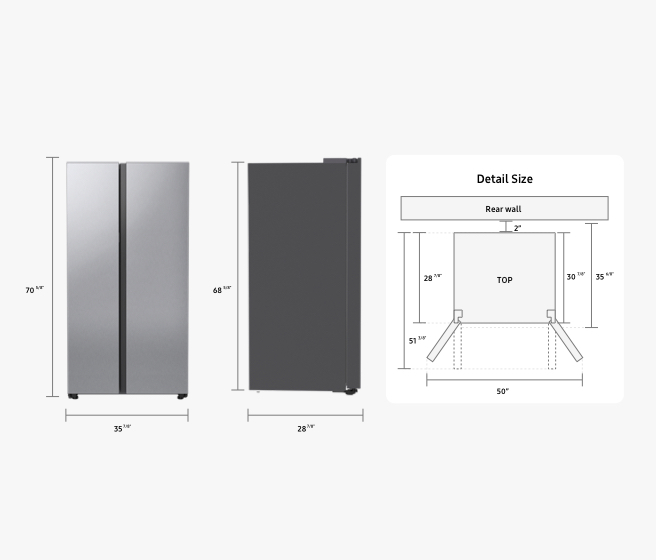 Counter depth
Counter depth refrigerators are space-efficient, provide more maneuverability in a narrow kitchen, and will blend seamlessly into your kitchen design.
Find your perfect fridge
Meet the family. Choose a model to begin exploring ways to make it your own
Conditions
1.Open-Box New
Products in Open-Box New condition is brand new — with no physical flaws, scratches, or scuffs — and include all original parts and accessories. 


2.Open-Box Excellent
Products in Excellent condition look brand new — with no physical flaws, scratches, or scuffs — and include all original parts and accessories. The product will be in its original packaging or a suitable replacement box.
Products in Excellent condition can be found in Appliances Club stores and online. Products might not include the owner's manual or manufacturer registration card. Standard home delivery products such as TVs and major appliances may still qualify for Excellent or Excellent-Certified condition without packaging or a box.


3.Open-Box Fair
Products in Fair condition operate as intended but show more significant scratches, dents, or chips & for example, Original packaging is typically not included.


4.Customer Return Product
Customer return products have been opened and used (some for weeks or months), not include original packaging, artwork, or manuals.
Customer Return products are inspected and verified to function properly, cleaned top to bottom, and restored to original factory specifications (as applicable).