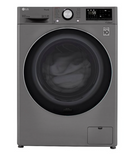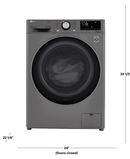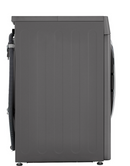 Description
WM3555HVA
Features

2.4 cu.ft. Compact Capacity

At 2.4 cubic feet, this washer/dryer combo unit has plenty of capacity to get the job done, with a compact size and closet depth design that fits almost anywhere.

Slide it under an existing countertop or install it in a second floor laundry room closet, for easy access that tucks neatly behind closed doors when you're done.

Built-In Intelligence

Forget about endless sorting or toggling through cycles—built-in sensors use AI technology to detect fabric texture and load size, then automatically select the right wash motions, temperatures and more for advanced fabric care.

ThinQ Care

Keep your appliances running smoothly with ThinQ Care, now in the ThinQ app. Get notifications about usage, maintenance, plus early diagnosis right on your phone. ThinQ Care will help you understand your appliance needs, avoid potential problems, and keep your appliance running its best.

ThinQ Technology

Use the ThinQ app to start the laundry while you're out shopping, check remaining cycle time or get notifications on your smartphone. Go hands-free—select features work with Alexa and Google Assistant. Never run out of detergent and dryer sheets again—

Amazon Dash Replenishment Service tracks usage and automatically delivers your favorite detergent and dryer sheets right to your door. ThinQ Care offers preventative maintenance tips and alerts and expedited repairs, for enhanced satisfaction plus improved product performance.

AAFA Certified LG Washer

Reduce common household allergens such as dust, pet dander and pollen in fabrics by more than 95%¹. Certified asthma & allergy friendly by the Asthma and Allergy Foundation of America (AAFA)²—LG washers are the first to earn this distinction.

Breathe easier with the Allergiene cycle that uses the gentle power of steam to remove dust, pet dander and pollen from bedding, baby clothes and more. A proven tool for creating a healthier home—perfect for the more than 65 million Americans living with asthma and allergies.

Ventless Condensing Drying

No access to external venting? No problem. LG's all-in-one washer/dryers use ventless condensing to dry your clothes without the need for external venting.

Sensor Dry

No more damp clothes—the built-in sensor detects moisture levels and automatically adjusts drying time for loads of all sizes. No more overdrying—dryer shuts off at just the right time to save energy with less wear and tear on clothes.

Tempered Glass Door with Chrome Trim

LG front load washers and dryers are the first to use tempered glass doors for a sleek, stylish look that resists shock and scratches. Chrome rim and matching control knob complement the door and enhance the premium feel.

Direct Drive Motor 10-Year Limited Warranty

Backed by a 10-year limited warranty, the LG Direct Drive Motor delivers peace of mind with every load. Fewer moving parts means less noise and vibration, greater stability and durable performance you can depend on for years to come.

NeveRust Stainless Steel Tub

Unlike porcelain or plastic tubs, the LG NeveRust Stainless Steel Tub avoids the chips and nicks that can snag fabrics and ruin clothing. Durable surface actually gets smoother over time and keeps your washer/dryer looking like new, even after years of use.

TrueBalance Anti-Vibration System and LoDecibel Quiet Operation

Run the washer when you want— LG 's TrueBalance Anti-Vibration and LoDecibel systems are designed for quiet operation to keep even big loads balanced to reduce noise and vibration. A must-have for main- or 2nd floor laundry rooms.

TubClean Cycle

The TubClean Cycle is designed for easy, periodic maintenance to keep your washer fresh. The cycle uses water jets to clean the wash tub and door, and an air dryer removes excess moisture, helping to keep your high-performing washer in tip-top condition.

SmartDiagnosis

If you ever experience an issue with your LG washer or dryer, you don't have to worry. The SmartDiagnosis feature helps the service center diagnose problems over the phone, or with a simple app on your smart phone, helping you minimize costly, inconvenient service calls.³

Wrinkle Care Option

When you can't be there to remove clothes as soon as they're dry, just select the Wrinkle Care option before hitting start. The dryer will periodically tumble the load for up to 3 hours after the cycle is done or until the door is opened to help keep wrinkles at bay.

SpeedWash Cycle

Let's face it: Sometimes, you just don't have time to wait for a standard wash cycle. When your're in a rush, LG's SpeedWash Cycle gets small lightly soiled loads refreshed in just 15 minutes.

Dryer cords are not shipped with the dryer. It is the responsibility of the consumer to purchase the appropriate cord for their home.

¹Based on certification by the Asthma and Allergy Foundation of America (AAFA)

²Asthma and Allergy Friendly mark is a Registered Trade Mark of the Asthma and Allergy Foundation of America and Allergy Standards Ltd.

³SmartDiagnosis is designed to supplement existing methods of problem identification and may not be able to troubleshoot all issues.
Conditions
1.Open-Box New
Products in Open-Box New condition is brand new — with no physical flaws, scratches, or scuffs — and include all original parts and accessories. 


2.Open-Box Excellent
Products in Excellent condition look brand new — with no physical flaws, scratches, or scuffs — and include all original parts and accessories. The product will be in its original packaging or a suitable replacement box.
Products in Excellent condition can be found in Appliances Club stores and online. Products might not include the owner's manual or manufacturer registration card. Standard home delivery products such as TVs and major appliances may still qualify for Excellent or Excellent-Certified condition without packaging or a box.


3.Open-Box Fair
Products in Fair condition operate as intended but show more significant scratches, dents, or chips & for example, Original packaging is typically not included.


4.Customer Return Product
Customer return products have been opened and used (some for weeks or months), not include original packaging, artwork, or manuals.
Customer Return products are inspected and verified to function properly, cleaned top to bottom, and restored to original factory specifications (as applicable).