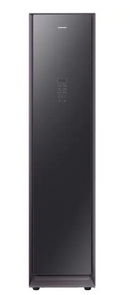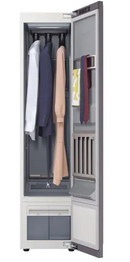 Description
DF60R8200DG
The Samsung AirDresser combines powerful steam and air to relax light wrinkles and remove 99% of common bacteria, dust mites and odors from your clothing. Based on testing by Intertek: 1) Sanitize Cycle eliminates 99.9% of E. coli and S. aureus and 99% of house dust mites. 2) Normal cycle eliminates 99% of isovaleric acid, 4-ethenylpyridine, valeraldehyde and tetrachloroethylene.
Steam - Refresh clothing inside and out while relaxing wrinkles

Sanitize Cycle - Sanitize cycle eliminates 99.9% of common bacteria and dust mites from fabrics

Easy Installation - Install AirDresser with one simple step: plug it in

Deodorizing Filter - Remove and absorb 99% of stubborn odors with AirDresser's built-in Deodorizing Filter

Fresh Finish - Insert your favorite dryer sheet for a laundry-fresh scent

4 General Cycles - Normal, Delicates, Quick, Sanitize

3 Dry Cycles - Sensor Dry, Time Dry, Room Care

9 Special Cycles - Suit, School Wear, Winter Coat, Wool/Knit, Outdoor, Down Jackets, Fur/Leather, Heavy Duty, Self Clean

6 Downloadable Cycles - Denim, Down Dry, Accessories, Babywear, Bedding, Toys

Front Facing LCD Touch Display

British Allergy Foundation (BAF) Certified

Included Accessories - 3 Air Hangers (for both Tops and Bottoms), Hanger Kit, Weight Kit, Shelf
Conditions
1.Open-Box New
Products in Open-Box New condition is brand new — with no physical flaws, scratches, or scuffs — and include all original parts and accessories. 


2.Open-Box Excellent
Products in Excellent condition look brand new — with no physical flaws, scratches, or scuffs — and include all original parts and accessories. The product will be in its original packaging or a suitable replacement box.
Products in Excellent condition can be found in Appliances Club stores and online. Products might not include the owner's manual or manufacturer registration card. Standard home delivery products such as TVs and major appliances may still qualify for Excellent or Excellent-Certified condition without packaging or a box.


3.Open-Box Fair
Products in Fair condition operate as intended but show more significant scratches, dents, or chips & for example, Original packaging is typically not included.


4.Customer Return Product
Customer return products have been opened and used (some for weeks or months), not include original packaging, artwork, or manuals.
Customer Return products are inspected and verified to function properly, cleaned top to bottom, and restored to original factory specifications (as applicable).