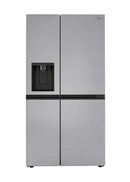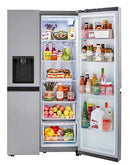 Description
LRSXS2706S
Satisfy your organized side. Show off your stylish side.
Designed for form and function, LG's Side-by-Side fridges have the capacity and easy access you've been looking for with looks that impress and perform.
Redesigned with Style in Mind
Take another glimpse every time you walk by this fresh design from LG and take in the contemporary vibe. Flat panels are enhanced with discreet pocket handles that offer easy access.
Room for everything
Stock up with 27 cu. ft.
It's big. And the best part – it's all in sight and easy to reach on both sides.
Smooth Operations, Sleek Looks
Dispense everything from chilled filtered water to filtered cubed or crushed ice with just a light touch. This modern update is both beautiful and practical, designed to be easy to clean to stay looking fresh.
All the ice – All the space

Get all the ice you need without sacrificing shelf space. LG's innovative slim, in-door design frees up freezer shelf space so you can use every inch for storage while still enjoying easy access to ice when you need it.




SpacePlus ice maker on the freezer door dispenses traditional cubed ice. You'll have enough to fill the cooler.




Crushed ice is ready with an easy touch from the dispenser – perfect to cool drinks quickly from sports bottles on the weekend to happy hour cocktails.



Cooling Technologies
This refrigerator keeps things cold and fresh, with the combined innovations of LG.
With Door Cooling+, door contents stay cool with blasts of cold air. And cold air in the freezer reaches more shelves, more evenly.




Precise temperatures keep things fresher longer. Linear Cooling™ keeps temperatures
state to 1° F.



Conditions
1.Open-Box New
Products in Open-Box New condition is brand new — with no physical flaws, scratches, or scuffs — and include all original parts and accessories. 


2.Open-Box Excellent
Products in Excellent condition look brand new — with no physical flaws, scratches, or scuffs — and include all original parts and accessories. The product will be in its original packaging or a suitable replacement box.
Products in Excellent condition can be found in Appliances Club stores and online. Products might not include the owner's manual or manufacturer registration card. Standard home delivery products such as TVs and major appliances may still qualify for Excellent or Excellent-Certified condition without packaging or a box.


3.Open-Box Fair
Products in Fair condition operate as intended but show more significant scratches, dents, or chips & for example, Original packaging is typically not included.


4.Customer Return Product
Customer return products have been opened and used (some for weeks or months), not include original packaging, artwork, or manuals.
Customer Return products are inspected and verified to function properly, cleaned top to bottom, and restored to original factory specifications (as applicable).