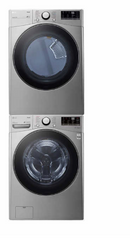 Description
WM3600HVA,DLE3600V
Wi-Fi Connectivity / ThinQ®
Select a cycle, start or stop the wash and get notifications about when your laundry will be done, all from your smartphone.
Steam Technology
Gently but powerfully penetrates fabrics to virtually eliminate dirt, odors and wrinkles.
TubClean Cycle
Designed for easy, periodic maintenance to keep your washer fresh.
The cycle uses water jets and intense heat (up to 149 degrees) to sterilize the tub and help keep your high-performing washer in tip-top condition.
LG SideKick™ Compatible
Wash small loads that just can't wait with the LG SideKick™ Pedestal Washer or wash two loads at once to save time. LG SideKick™ sold separately.
Amazon Alexa
Control compatible smart appliances with Amazon Alexa. Simply speak your commands and Alexa will do the work for you.
Google Home
Control compatible smart appliances with Google Home. Simply speak your commands and your Google Home will do the task for you.
Remote Monitoring
Keep track of what's in the fridge from your grocer's aisle, how much time is left on that roast in the oven, or if it's time to add the next load of laundry right from your smart device. Remote Monitoring will always keep you in the know
Remote Control
Use your smart device as a remote control to control appliance functions, whether you're home, in the office, or on the road.
Allergiene™ Cycle
An NSF certified sanitary cycle, also officially certified by the Asthma and Allergy Foundation of America, is available.
10 Wash Programs
Choose from Normal, Heavy Duty, Bedding, Al-lergiene™, Tub Clean, Perm. Press, Delicates, Speed Wash, Rinse + Spin and Downloaded.
9 Wash Options
Choose from Steam, Delay Wash, Pre-Wash, Extra Rinse, Cold Wash, Wi-Fi, Remote Start, Spin Only and Control Lock.
SmartDiagnosis™
Helps the service center diagnose problems over the phone, or with a simple app on your smartphone, helping you minimize costly, inconvenient service calls.
Smart Pairing™
With Smart Pairing™, the washer can tell the dryer to select a compatible drying cycle.
Child Lock
Prevent unwanted use of the appliance.
Capacity
Certification
AFFA (Asthma and Allergy Foundation of America)
Conditions
1.Open-Box New
Products in Open-Box New condition is brand new — with no physical flaws, scratches, or scuffs — and include all original parts and accessories. 


2.Open-Box Excellent
Products in Excellent condition look brand new — with no physical flaws, scratches, or scuffs — and include all original parts and accessories. The product will be in its original packaging or a suitable replacement box.
Products in Excellent condition can be found in Appliances Club stores and online. Products might not include the owner's manual or manufacturer registration card. Standard home delivery products such as TVs and major appliances may still qualify for Excellent or Excellent-Certified condition without packaging or a box.


3.Open-Box Fair
Products in Fair condition operate as intended but show more significant scratches, dents, or chips & for example, Original packaging is typically not included.


4.Customer Return Product
Customer return products have been opened and used (some for weeks or months), not include original packaging, artwork, or manuals.
Customer Return products are inspected and verified to function properly, cleaned top to bottom, and restored to original factory specifications (as applicable).