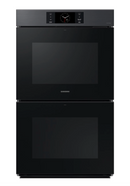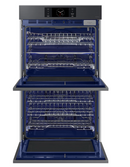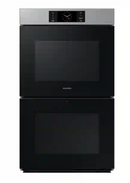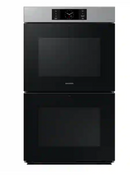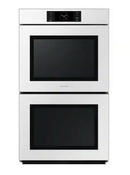 Description
NV51CG700DMTAA,NV51CB700D12AA
NV51CG700DSRAA
AI Pro Cooking™ Camera
Bespoke is Samsung's premium line of home appliances that leads the way in design, technology, and connectivity. Create a kitchen that expresses your personal style.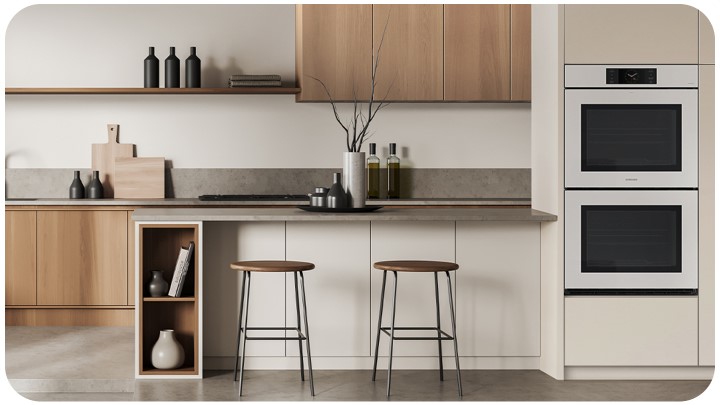 Convenient and fun cooking
AI Pro Cooking™ Camera
The AI Pro Cooking™ Camera live streams video to your smartphone so you can easily check on meals as they cook.¹ Just for fun, you can make and share time-lapse videos to your social media during cooking. The camera can recognize² popular ingredients and suggest optimal cooking modes and settings for many recipes.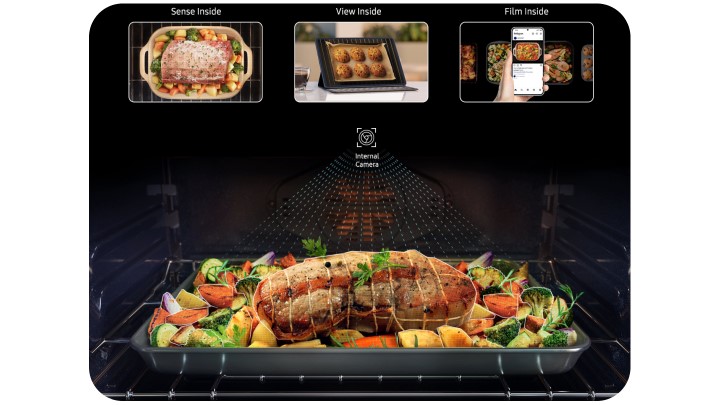 Saves time and easy to use
 One oven or two? This wall oven can be converted to two ovens to cook multiple meals at one time. It's push to open handle- free door makes it easy to use.
Handle-Free door design
The oven door easily opens with a simple push.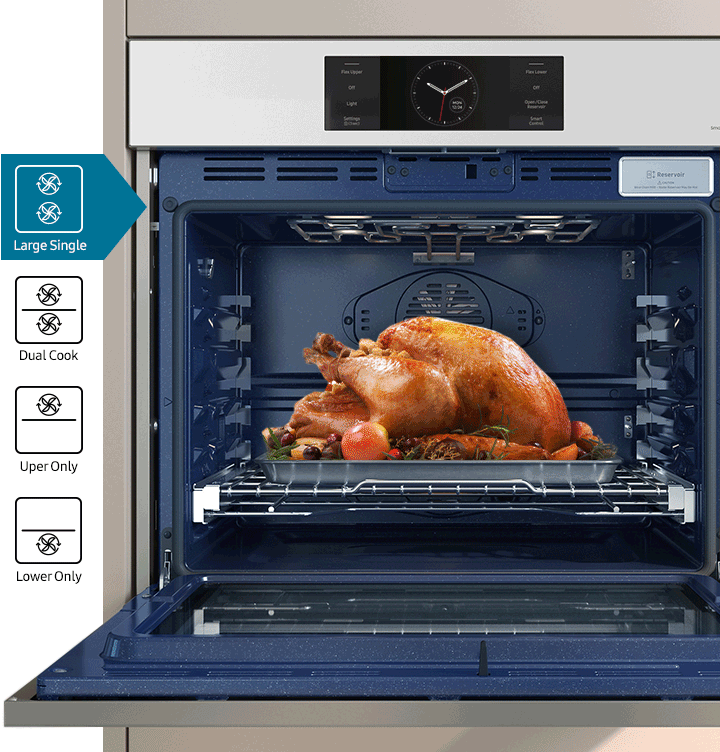 Flex Duo™ Dual Oven
Save time and convert one oven into two with the Flex Duo™ dual oven. Cook multiple meals at one time at entirely different temperatures or settings.
Say goodbye to dry and get moist and flavorful foods
 This wall oven gives you sous vide results without the water bath." Perfect for fish, poultry, and vegetables. An easy-fill water tray lets you cook with added steam.
Life in sync with SmartThings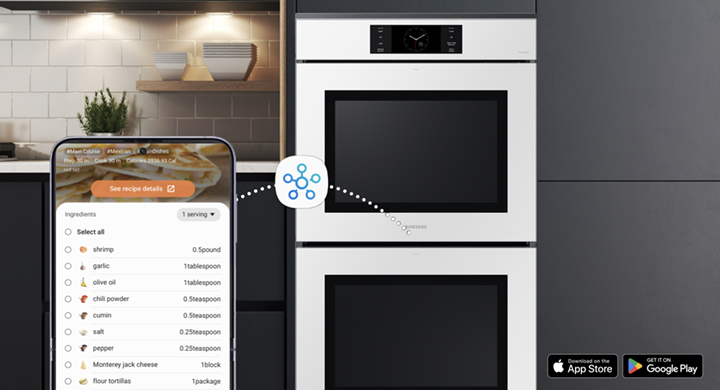 Preheat and plan meals on the go
The SmartThings app lets you search recipes, plan meals and pre heat your oven from your phone.⁴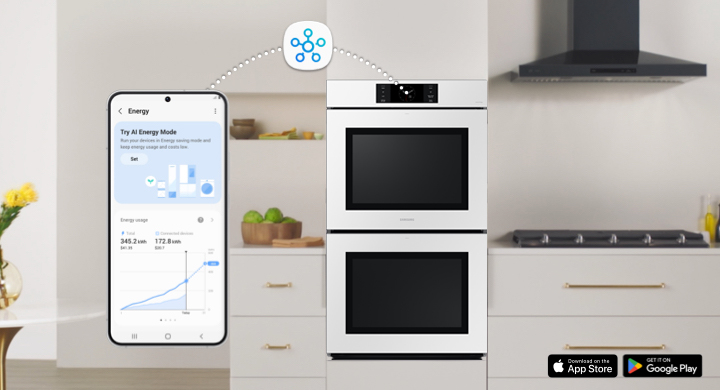 Monitor and control energy usage
SmartThings lets you monitor and manage your wall oven's power usage. Get energy saving tips and alerts to help lower your electric bill.⁴
Healthier cooking with steam
Steam Cook Plus
Create healthier dishes using Samsung's Steam Cook Tray.⁵ Foods can be fully cooked with only steam, which retains its nutrients.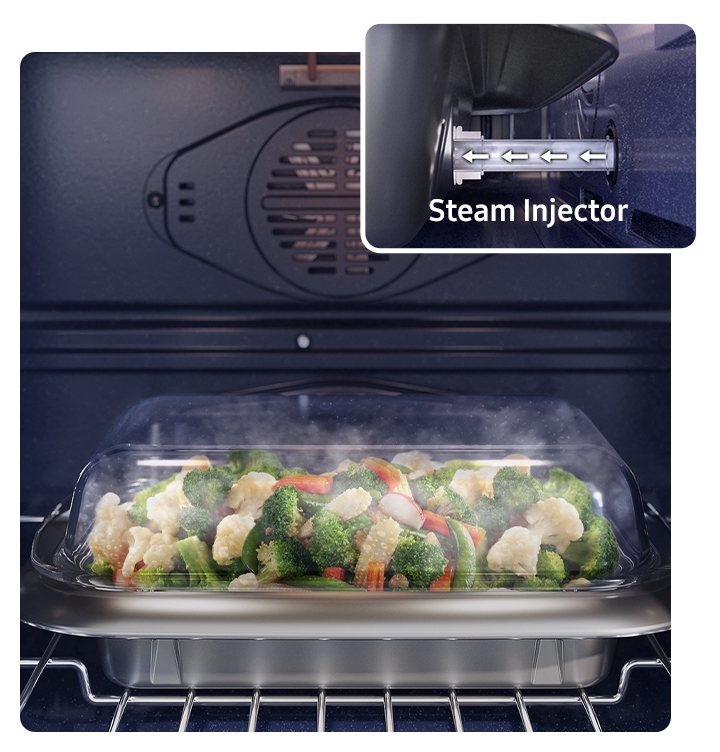 Cooking healthier, nutritious and delicious
Wall oven provides healthier⁶ fried foods with its Air Fry mode and no preheating needed.
Easy to control & Fast cooking
This wall oven is easy to monitor and control, fast cooking and does the hard work for you with it's self-cleaning system. 
7" LCD screen

Make cooking easy with a control panel that has a large 7" LCD display. It's easy to read with large text and icons so you can easily adjust settings and monitor your cooking progress, even from a distance.

Dual Convection

Save time and cook food more evenly with dual convection. Great for baking, roasting, and broiling, the dual convection system has two heated fans that distribute heat throughout the oven and keep temperature constant everywhere.

Self and Steam Clean

Get help from your oven with Self Clean. The selfcleaning system deep cleans by heating to a high temperature to burn off grease and food residue. Steam Clean in 20 minutes for easier cleaning jobs.
Accessible Carousel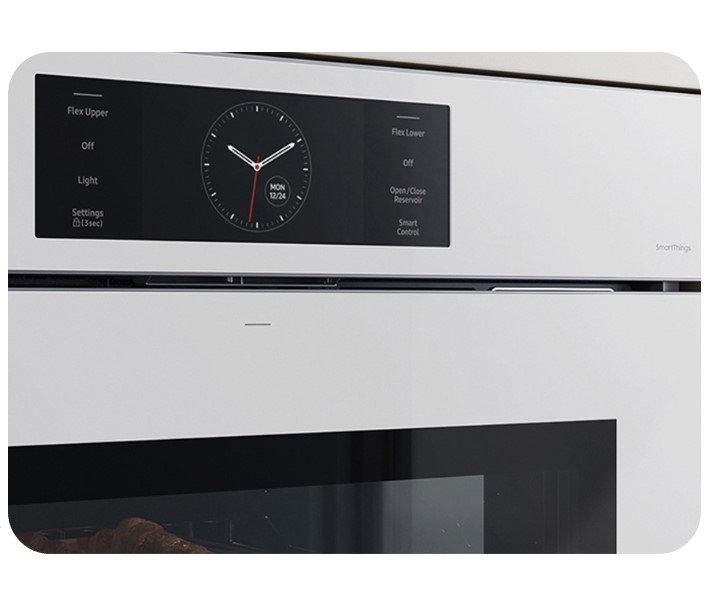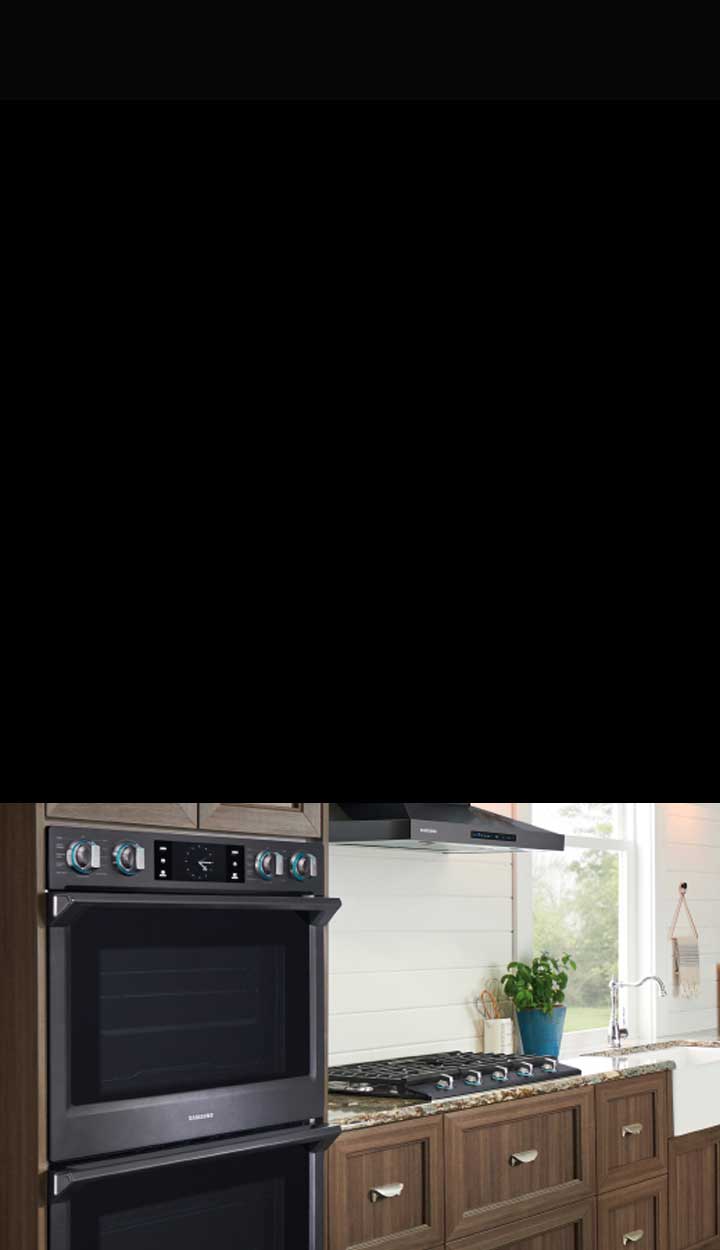 Our Ready2Fit™ 
Guarantee

If your new Samsung 30" built-in wall oven or 30" or 36" cooktop doesn't fit the cabinet cutout or countertop that houses your existing wall oven or cooktop of the same width and configuration, you'll receive up to $300 as a MasterCard® Reward Card toward a professional cabinet retrofit.ß
ßOnline terms and conditions apply. Receive up to $300 on wall oven and up to $100 on cooktop.
Awards and Certifications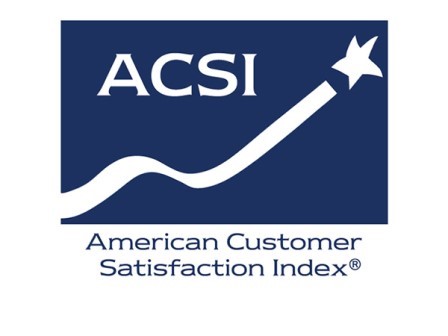 ACSI Award
Samsung was rated #1 in Product Quality, Service Quality, and Service Repair by the 2022 American Customer Satisfaction Index.‡‡
Conditions
1.Open-Box New
Products in Open-Box New condition is brand new — with no physical flaws, scratches, or scuffs — and include all original parts and accessories. 


2.Open-Box Excellent
Products in Excellent condition look brand new — with no physical flaws, scratches, or scuffs — and include all original parts and accessories. The product will be in its original packaging or a suitable replacement box.
Products in Excellent condition can be found in Appliances Club stores and online. Products might not include the owner's manual or manufacturer registration card. Standard home delivery products such as TVs and major appliances may still qualify for Excellent or Excellent-Certified condition without packaging or a box.


3.Open-Box Fair
Products in Fair condition operate as intended but show more significant scratches, dents, or chips & for example, Original packaging is typically not included.


4.Customer Return Product
Customer return products have been opened and used (some for weeks or months), not include original packaging, artwork, or manuals.
Customer Return products are inspected and verified to function properly, cleaned top to bottom, and restored to original factory specifications (as applicable).